Skip to main content
Serve With Us
Whether you're a veteran, active duty member transitioning to civilian work, member of the National Guard, reservist, or a military spouse, we actively seek candidates who are ready to redeploy the skill sets they acquired in the military to join our workforce.
AEP appreciates the unique characteristics and talents you bring to any job. We value your commitment to teamwork, your keen attention to detail and your dedication to safety – skills essential to ensuring reliable energy service for our millions of customers. The technical abilities you refined during your service also make you an asset across the company, like in a power plant as an engineer, in a substation as a mechanic or in an office as a project manager or dispatcher.
If you're currently enlisted, we understand the challenges of the transition process to a civilian career, and we're here to help. Our talent acquisition team builds direct relationships with military bases across the country to provide veterans with a pipeline to careers at AEP. We're also committed to increasing military hiring through successful partnerships with federal, state, local and non-profit agencies.
Military Talent Community
Become part of our military talent community to get alerts when job openings that fit your skill set and interests become available.
We're proud to be recognized as a Military Friendly employer
Benefits
In addition to a comprehensive benefits package, AEP also offers programs and accommodations for employees who have served or are currently in the Reserves or National Guard.
Pay differential for employees in the Reserves or National Guard who are ordered to active duty in emergency situations
Pay differential for Reserve and National Guard weekend and weekday training along with up to eight hours paid leave before and after Reserve and National Guard training, if scheduled for work during those hours
Paid time off to attend funeral services for a member of an employee's military unit who died as a result of wounds, disease or injury incurred while serving on active duty status
Our Military Veterans Employee Resource Group is one of many ERGs at AEP that supports our diversity and inclusion mission by building awareness and mutual respect, while making a difference in the communities where we live and work.
We're also regularly recognized for creating a welcoming work environment and for being a veteran-ready employer.
Events
We routinely hold recruiting events across the country.
Come meet us and learn about a career with AEP.
Let's Work Together
Interested in learning how your service to our country translates into a rewarding career with AEP? Take a look at our current job postings and become part of our talent community by signing-up for alerts to notify you when postings for roles geared toward those with a military background become available.
Veterans learn skills that may make you uniquely qualified for certain positions with us. Check out the following jobs to see if they apply to you.
STORIES OF SERVICE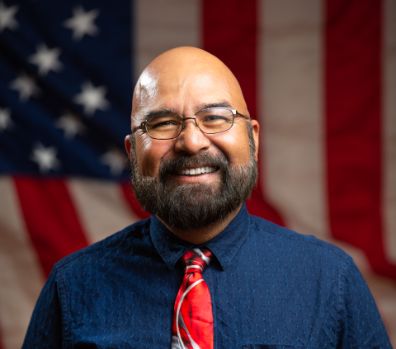 Hector Lugo uses the skills he learned in the U.S. Air Force as a safety and health consultant.
Scott Smith, senior vice president of Transmission Field Services and U.S. Army veteran, volunteers with Honor Flight to help fellow veterans receive the recognition they deserve.
AEP is a supporter of the National Veterans Memorial and Museum in Columbus, Ohio, which shares powerful stories of the men and women who served our country.