Skip to main content
We're Here for You American Electric Power is committed to the health and safety of our customers, communities and employees as we closely monitor the COVID-19 pandemic. Learn more
×
August 16, 2019
COSI Honors AEP For Science Festival
The dedication of AEP volunteers to central Ohio's inaugural "community science festival" earned special recognition recently from COSI Columbus, central Ohio's science center.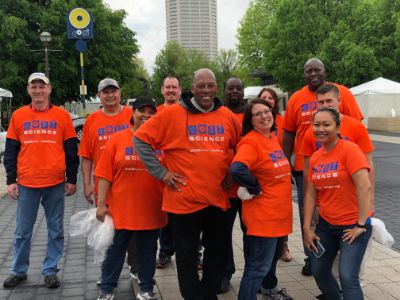 COSI honored AEP and its employees for "extraordinary volunteer commitment to COSI during 2019." More than three dozen employees volunteered over the course of its inaugural four-day COSI Science Festival in May.
COSI launched the science festival to engage, inspire, and transform central Ohio communities around science and technology. The community-focused festival concluded May 4 with the Big Science Celebration in and around the science center. More than 40,000 people attended the festival, making it one of the largest – if not the largest – science events in Ohio history. All 10 NASA research centers provided interactive exhibits at the event.
"The 2019 Science Festival saw 110 events occur across 13 central Ohio partner communities, taking science to the places that people of all ages live, learn and lounge." said Dr. Frederic Bertley, COSI president and CEO.
The dedication of one group of AEP employees in particular stood out for Gerlinde Higginbotham, COSI manager of community partnerships. More than 20 volunteers from AEP Procurement/Supply Chain helped set up the day before the Big Science Celebration in cool, wet weather. Denise Tolliver and Sinuon "Sam" Todd coordinated the team's efforts.
"They worked really hard moving stuff, setting up tables, chairs, etc., and in the rain!," Higginbotham noted. "A couple of the team members returned to help with teardown."
The COSI Science Festival was such a success that six communities in six contiguous counties have come on board to host local science festival activities during the 2020 COSI Science Festival May 6-9.
AEP Ohio hosted a tent with interactive games and activities around energy use, STEM careers, lineworker bucket photo experience and Louie the Lightning Bug during the Big Science Celebration. The AEP Foundation was a sponsor of the festival.