Skip to main content
We're Here for You American Electric Power is committed to the health and safety of our customers, communities and employees as we closely monitor the COVID-19 pandemic. Learn more
×
October 24, 2019
Credits Count Grant Supports Science Education
Kentucky Power awarded the final installment of an $815,000 AEP Foundation grant to boost science, technology, engineering and math (STEM) education in Lawrence County Schools.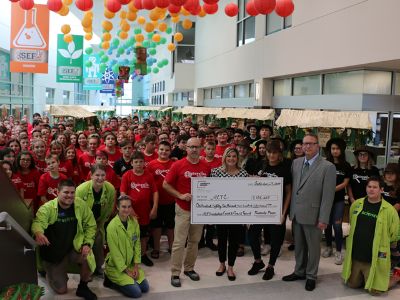 The American Electric Power (AEP) Foundation Credits Count Grant, announced in 2015, is being funded over five years in partnership with Ashland Community and Technical College (ACTC). Since the first installment, ACTC has worked with Lawrence County Schools to expand STEM offerings and dual credit options. About 2,500 students stand to benefit from the grant. The project is designed to reach students as early as middle school to nurture their interests in STEM careers. As they advance, Credits Count helps them earn college credits or career certifications by the time they finish high school. The latest grant installment totaled $185,257 and was presented during a Day of STEM Exploration with middle school students in collaboration with the Kentucky Science Center. Kentucky Power engineers also facilitated an electricity workshop for students during the event.
"Kentucky Power and the AEP Foundation support improving lives through education," said Kentucky Power President Brett Mattison. "By helping students earn college credit and career skills while still in high school, this grant is a major investment in our children, our communities and the future of eastern Kentucky."
The Credits Counts grant provides for: middle school STEM experiences to engage students as early as possible in college exploration for STEM-related careers; college course readiness assessments to identify gaps in writing, math and reading that may need tutoring support; a summer bridge program to provide any needed English and math remediation prior to students entering the dual enrollment program; and dual enrollment in high school and at Ashland Community and Technical College.
This year three Ashland-area employees participated in STEM Day leading science lessons for students. Bre Howell, a technician associate in Ashland; Dee Dozier, an engineer in Ashland; and Ken Borders, Customer and Distributions Services manager in Ashland; were among the volunteers.
"This event is a full-circle event for me," Howell said. "Lawrence County High School is my alma mater, I participated in ACTC's dual credit courses (now referred to as Credits Count) while in high school, and I am now employed by Kentucky Power. I have ties to all three groups involved, which is pretty cool! I also used to be a substitute teacher for Lawrence County Schools, so many of those students know me well. I love to volunteer, regardless of if it is for Lawrence County Schools or not, because STEM has a special place in my heart."
Mia Brown, ACTC's project director for Credits Count, said efforts to raise interest and awareness in STEM careers and technologies is leading to significant student gains.
"Data show that after learning about more than 100 new careers and technologies in STEM, student interest in STEM has risen 33 percent, while student disinterest in STEM has decreased 22 percent," Brown said. "We have created a successful STEM model that connects middle school STEM exploration to college readiness preparation and early college opportunities. It is an exciting time for Credits Count students."
Many of the hundreds of students participating in STEM day said the hands-on activities were a fun way to learn.