Skip to main content
We're Here for You American Electric Power is committed to the health and safety of our customers, communities and employees as we closely monitor the COVID-19 pandemic. Learn more
×
November 12, 2019
Employee Volunteers Make a Difference
American Electric Power Company employees showed up in full force, volunteering in communities across 11 states throughout October. Working through AEP's Making a Difference grant program, employees showed that small acts add up to widespread impact for critical needs in education, food and shelter, safety, health and animal welfare.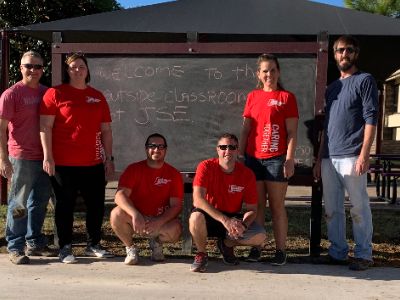 In Pikeville, KY, administrative associate Jessica Adkins, coordinated a project for the Leonard Lawson Cancer Center, an organization that provides wigs and makeovers to women undergoing treatment. The center has special meaning for Adkins whose grandmother received services in 2016.
"I remember my grandma saying this kind of treatment made her feel very special and took her mind off the hard battle she was facing," Adkins said.
Adkins and her team made and donated gift baskets with activity books, toboggans, gloves, lotions, fingernail polish, scarves, breast cancer bracelets and more to the patients currently receiving treatment. They also took doughnuts to the medical staff as a 'thank you' for always being so caring with their patients.
"This was a really heartwarming experience for me. I feel privileged to work for a company that allows me to give back to my community and to a charity that I believe in so much," Adkins said.
Since 2005, AEP has provided Making a Difference grants of up to $300 per project to build on employees' boundless energy for making communities better places for everyone. Across the AEP service territory, every operating company participated this year—with a record 48 grants submitted for consideration.
Making a Difference Grant project highlights:
AEP Corporate and AEP Ohio
Columbus, Ohio
Hardy Center – purchase and lay mulch at a community playground.
Metro Middle School – build bookshelves and organize books in the library.
The Ohio State University Toy Adaptation Program – purchase and adapt toys for us by differently abled children.
YWCA Family Center – host a lunch for 70 families staying at the facility.
Dublin – Ohio Contemporary Chinese School – held a Chinese Culture night for everyone to experience the beauty of Chinese culture.
Franklin County – Helping Hygiene Bag Initiative – gather and package donations of personal hygiene items for distribution by the Franklin County Board of Developmental Disabilities.
Lancaster – Freedom's Never Free – present a host of activities honoring veterans, military and first responders.
London – London Visual Arts Guild – support renovation of a new space for the Guild, including painting and minor electrical repairs.
Nelsonville – York Township Volunteer Fire Department – raise money for an education "vending machine" for children to borrow and exchange books at their convenience.
Smithville – Wayne County Career Center – purchase safety equipment (harnesses and climbers) for students at the career center.
Westerville
IEEE PES – connect professionals with Columbus–area college students to discuss trends and future workforce opportunities in the utility industry.
The Ohio State University's Star House – hold a Fall Festival at the only 24–hour drop–in resource center in central Ohio for homeless youths age 14–24.
West Jefferson – Sufficient Grace – buy food for children in central Ohio school districts.
AEP Texas
Corpus Christi – Ronald McDonald House Charities – purchase food and drinks as well as desserts to provide the families to a home cooked meal.
El Campo – Shall Not Hunger – cover the cost of supplying food to one child on non–school days for the entire year.
San Benito – Blue Sunday Foster Teens – purchase $20 gift cards to give to teens for Christmas.
Appalachian Power Company
Virginia
Fieldale – Grace Network of Martinsville – Henry County Toy and Food Drive – help children and families who are food insecure and provide Christmas toys for children.
Pulaski – Pulaski County Christmas Store – buy toys and clothing for children in Pulaski County.
Stuart – Patrick County Christmas Cheer – purchases clothing, food and personal hygiene products for students in need.
West Virginia
Charleston – West Virginia WiNUP /United Way "Socktober" – purchase socks for shelter residents.
Milton – Therapy thru Horses – provide feed and tack, and repair and maintain fencing for horses that provide physical and emotional therapy to disabled people and victims of abuse.
Moundsville
Fire Victims – support tenants who lost everything when fire struck the business below their apartment building.
McCrary Center – purchase items for cooking with the kids at the transitional living and housing service for youth ages 17 to 21.
Southern WV Action for Youth – buy food, drinks, candy and prizes for a youth Halloween party.
Tug Recovery Shelter – purchase food, clothes, bedding for women and children at the shelter.
Indiana Michigan Power
Stevensville, MI
Paws of Hope –Packages included information on Lyme disease and heartworm, flea/tick prevention medication, treats and toys.
Hollywood Elementary Community Garden – purchase supplies for the community garden used to educate students about growing and caring for fruit and vegetable crops. The produce is given to families in need.
Kentucky Power
Hazard, KY – Housing Alliance – purchase materials to build a house for a needy family.
Pikeville
Diamonds in the Ruff – provide necessary supplies for pet adoption including vaccinations, leashes, collars, shampoo, etc.
Homeless Veterans – help gather and package personal hygiene items, clothing, pillows, bed sheets, toiletries and cleaning supplies.
Pike County Humane Society – offset a portion of the cost to provide spay/neuter services.
Mountain Comprehensive Care Center – provide personal hygiene items, clothing, pillow, bedding, toiletries and cleaning supplies to veterans in the Transitional Housing Center.
WestCare Emergency Shelter – buy food, toiletries, socks and clothing for families residing at the shelter.
Judi's Place for Kids – train advocates for children.
Appalachian Pregnancy Care Center – furnish formula, clothing, bedding, diapers and other necessities for low-income women facing unplanned pregnancy and motherhood.
Appalachian SPCA – pay for supplies and cover the cost of veterinary bills to spay and neuter cats ready for adoption.
Public Service Company of Oklahoma
Lawton–Almor–West Pre–K Playground – purchase paint and materials to spruce up the playground.
Tulsa
Iron Gate Trust Warm For The Winter – collect new or gently used warm clothing items and non–perishable food for the homeless and purchase additional items as needed.
Southeast Elementary School Outdoor Garden—assist with planting garden boxes and cleaning up a section of trees in order to put in new seating.
SWEPCO
Longview, TX – Heartisans – purchase materials to build a picnic area with planters and benches.
Shreveport, LA
Compassion for Lives – provide local bus passes to help clients with the cost of transportation to job placements and health treatments.
Falcon's Nest Closet of Hope – stock the Northwood High School closet with hygiene items, school supplies, clothing, coats, and shoes so that every student has a successful academic year.
Right to Play, Inc. – repair broken equipment, plant new plants and shrubs, replace mulch, clean up and replant flowers in music garden at a community playground.
Springdale, AR –HOPE Distributors –purchase food and products for HOPE to redistribute to food insecure families