Skip to main content
We're Here for You American Electric Power is committed to the health and safety of our customers, communities and employees as we closely monitor the COVID-19 pandemic. Learn more
×
December 10, 2019
I&M and AEP Transmission Light the Holidays at Suzanne Gresham Center
More than 30 I&M and AEP Transmission employees pitched in to help light up the holidays in Muncie, Ind.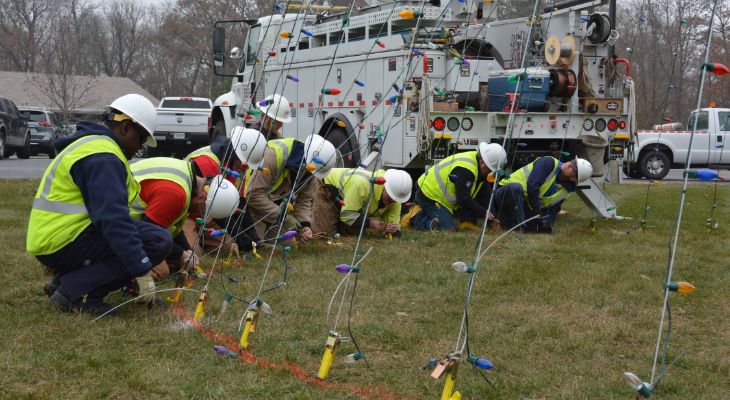 The Suzanne Gresham Center, a division of Meridian Health Services, helps some of the most vulnerable, including expecting mothers struggling with addiction and victims of child abuse and molestation. Their "Holidays at Gresham" event is one more way in which they give back, putting together a drive-thru light exhibit to spread cheer and brighten the holiday season for their clients and the community. According to their website, "the holidays are about kids, lights and magical scenes… and it's been said that you cannot light another's path without brightening your own."
In addition to being the presenting sponsor, I&M put elbow grease into this year's display with a volunteer rush that accomplished weeks' worth of work in one day. Rob Keisling, Community Affairs Manager, and Scott Bennett, Manager Distribution System, organized a group of I&M employees to lend a hand.
Part of the power of the team is remembering the size of the team you play for. "That's what's neat about this project," said Scott Bennet, "it's easy enough for Rob and me to get a group of guys together from our department, but we reached out to other areas of the company, and they all jumped on board to provide resources. At the end of the day, it shows that Indiana Michigan Power does want to give back to the community."
Each task started with a safety brief and crews brought their expertise to bear, going so far as calling in additional trucks (such as the 150' transmission bucket) to make sure the job was done safely and efficiently the first time. Multiple crews also stayed late in the cold, misty weather to ensure their tasks were finished.
You can get more information about the Holidays at Gresham, including a schedule of the light displays, by visiting their event page.