Skip to main content
July 16, 2020
Virtual Math Camp-In Keeps Students Learning
"Is there a trail post today? Can I do it first?," the eager first-grade student asked his mom while doing his virtual math lesson.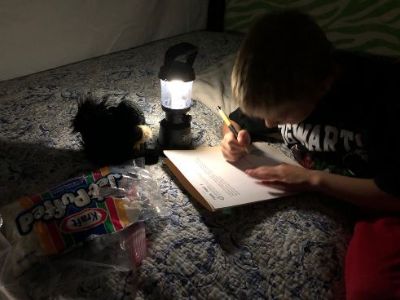 The student was enjoying Math Camp-In, an afterschool/math night program quickly adapted for on-line learning during the COVID-19 pandemic by the Teaching & Learning Collaborative (TLC) of Worthington, Ohio.
Math Camp-In "really helped my son in understanding math," said Kate Baker, instructional coach for elementary school teachers in Dublin, Ohio. Her son set up an indoor "tent" complete with camp lantern and marshmallows for doing his math work.
The pivot to remote learning came quickly when schools across the nation closed in March. Numerous nonprofit educational organizations supported by the AEP Foundation were nimble and innovative in addressing the sudden need for on-line education.
"We knew our partner districts, educators and families were all trying to figure out the best way to facilitate learning from home and then it hit us -- Math Camp-In!," said Kelli Shrewsberry, TLC executive director. "The early grades are such critical years for the development of mathematical understanding and we wanted to be sure that what we were sharing as a resource continued to help educators and families engage children in mathematics and critical thinking."
Students "hike" to mail seven virtual Trail Posts, complete math-themed tasks and earn camp badges. TLC also recruited virtual "Camp Counselors," teachers and families who utilize the resource and share their experiences as they "hike the Mathematical Trail."
Students, educators and parents alike enjoy Math Camp-In, said Jennifer Callahan, a third-grade teacher and team leader at New Albany Plain Local Schools in Ohio.
"The engagement of my students overwhelmed me," said Callahan. "Families and kiddos were working together, having fun, and talking about math! The rich mathematical tasks engaged students and offered a variety of ability levels."
This is "an experience where parents can help grow their child as a mathematician but without the stress or struggle of keeping them motivated and intrigued," Callahan said. "Parents are given the tools to support their child even without any educational background of their own. Educators are supplied with the rationale of how Math Camp-In fits the curriculum and information to support families."
Visit http://teachinglearningcollaborative.org/math-camp-in to start your adventure.