Skip to main content
April 12, 2021
AEP and Columbus Crew SC Team Up for New, Multi-year Partnership
Columbus Crew SC today announced that the Club has entered into a new, multi-year partnership with American Electric Power. As one of the largest electric energy companies in the U.S., Columbus-based AEP powers millions of homes and businesses. AEP becomes an Official "Founding Partner" of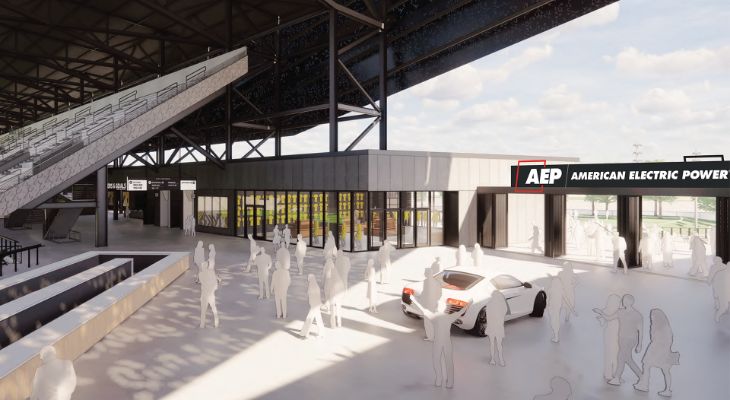 Columbus Crew SC and New Crew Stadium, set to open in July of this year. As an Official Founding Partner, AEP will be the entitlement partner to the Southeast Gate at New Crew Stadium.
"Columbus Crew SC is excited to announce a new, multi-year partnership with American Electric Power as an official Founding Partner of our Club," said Crew SC executive Vice President and Chief Business Officer Steve Lyons. "This partnership will allow us to power our new downtown stadium while helping our supporters learn more about energy savings. We are proud to continue to stand alongside AEP – our partner for over a decade – to honor our military heroes and further our mutual commitment to education and the Columbus community."
"Over the last several months, we have been proud to announce several Founding Partners of New Crew Stadium," said Lyons. "The outpouring of local support from top-tier, Columbus-based corporations demonstrates the immense pride in choosing Columbus and choosing the Crew. Through each of these partnerships, we are able to provide an exemplary matchday experience as well as make critical impacts throughout our community."
In addition to having entitlement rights to the Southeast Gate at the New Crew Stadium – where nearly 80% of all supporters will pass through – AEP is set to also have presenting rights over Military Appreciation Night and the Hometown Heroes Program, which recognizes local members, past and present, of the U.S. military.
AEP will also have presenting rights to a military appreciation content series to be released by Crew SC in the future. In continuing with their commitment to community work, AEP will also become an associate partner of a community platform that will be announced at a later date.
"AEP looks forward to continuing our longstanding relationship with the Crew, especially as the Club begins this exciting chapter in team history," said Janelle Coleman, AEP's vice president of Corporate Philanthropy & Community Engagement and president of the AEP Foundation. "From winning last year's MLS Cup to the upcoming opening of its world class stadium, the Crew inspires pride in Columbus. We're proud to support both the team and their unwavering commitment to our community."