Skip to main content
May 27, 2021
Sitting on the opposite bank of the Scioto River from AEP's headquarters in Columbus, Ohio is the National Veterans Memorial and Museum. With the help of AEP and other corporations, the museum shares powerful stories of the men and women who served our country.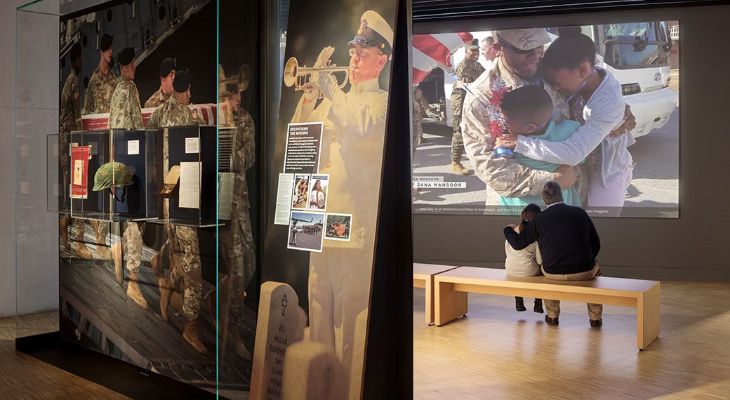 The National Veterans Memorial and Museum (NVMM) was the vision of the late Senator John Glenn, Colonel, USMC (Retired). Senator Glenn wanted to ensure that not only names, dates and battles were preserved, but personal photos, belongings and letters of our nation's veterans.
"NVMM takes visitors on the journey of our veterans from all military branches in all eras of our nation's history using powerful, personal experiences of the men and women who have served," said Lt. General Michael Ferriter, US Army (Retired), president and CEO, National Veterans Memorial and Museum. "Without the support of corporations like AEP, the museum wouldn't have been possible, and these stories would go untold."
There are 14 alcoves in the museum that capture key moments in the journeys of veterans and their families. It is in those alcoves where history is presented with photos, letters, personal effects, multi-media presentations and interactive exhibits. Lt. General Ferriter noted that the museum is about people.
"The exhibits can have a healing effect for some veterans who might be struggling with some aspect of their past service. I've followed behind tour groups and heard veterans share stories they have never told before. That is what this museum is for – the men and women of our military," added Ferriter.
AEP has been involved with the National Veterans Memorial and Museum from the beginning. The AEP Foundation provided a donation for the initial development of the site. Paul Chodak, executive vice president – Generation, and Janelle Coleman, president of the AEP Foundation and vice president of Corporate Philanthropy and Community Engagement, both sit on the Board of Directors.
"AEP was an early supporter of the museum, and Lt. General Ferriter when he first moved to Columbus," said Chodak, co-executive sponsor AEP's Military Veteran employee resource group. "As a veteran myself, serving on the board of directors of the NVMM is an honor. I believe it is critical that veterans' contributions are honored and shared with the country to ensure their bravery and courage are never forgotten."
"On Memorial Day, and every day, it is important that we remember the service members who sacrificed their lives for our country. AEP's Military Veteran Employee Resource Group joins military ERGs from other companies to place the flags around the museum every Memorial Day in remembrance of our fallen brothers and sisters," said Scott Smith, senior vice president, Transmission Field Services, and co-executive sponsor Military Veteran ERG.
Lt. General Ferriter closed with one last thought, "Come visit us, we'll make history together."
To see a list of Memorial Day events, visit the NVMM website.