Skip to main content
March 25, 2022
Solving the Digital Divide in Rural America
For many Americans, it's hard to imagine life without easy access to quick, reliable internet. But for some Appalachian Power customers, being disconnected from the internet – and the opportunity it brings – is their reality.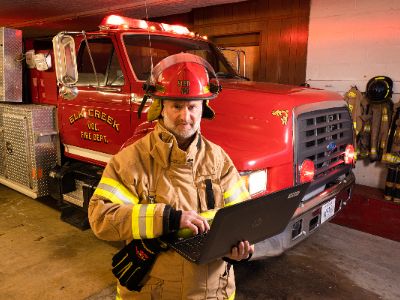 In areas like Grayson County, the least connected county in Virginia, a lack of broadband internet access has stunted its growth. Population has declined over time and business and economic development prospects struggle without the promise of dependable internet.
The greatest obstacle telecommunications companies face in providing broadband service to rural customers is building the costly and lengthy middle-mile infrastructure needed to deliver internet.
APCo's 3,000 mile fiber optic network, built mostly along transmission line routes, traverses hundreds of communities left behind by a broadband-powered economy. With its network already near where middle-mile fiber is needed, APCo knew we could help bring broadband to unserved communities in a way others could not. But first we needed to convince legislators and regulators of our plan.
Armed with a solid solution, a promising path forward and our industry's record of success in solving rural electrification, we set out to build a network of support committed to turning ideas into reality.
In 2020, we received Virginia State Corporation Commission (SCC) approval for a 238 mile, $25 million project in Grayson County, Virginia. In 2021, our last-mile internet service provider partner GigaBeam Networks began connecting homes and businesses to the new system, and those customers are now enjoying high-speed broadband internet service.
"It's hard to find adequate words to describe what this means to our county," said Grayson County Administrator Bill Shepley. "The pandemic has driven home the need for digital access, and this project has shown us and communities around the country that broadband access is possible in rural, mountainous areas where homes and businesses are spread apart."
Also in 2021, the Public Service Commission of West Virginia approved a $61 million, 400-plus mile project now under construction in Logan and Mingo counties that will make broadband available to more than 15,000 unserved customers. We've also secured nearly $20 million in state-level funding for two additional projects in Virginia and another $10 million in funding for a project that runs through abandoned mine lands in five West Virginia counties.
Other states are taking notice. This year, Texas lawmakers are considering enabling legislation backed by an AEP sister company, which is modeled after a bill passed in West Virginia.
AEP received the Edison Electric Institute's Advocacy Excellence Award for our efforts. The award highlights EEI member companies' engagement and activism in public policy advocacy at federal, state, and local levels.
"We stepped out and did something that our company has never really done before and that was exciting," said Brad Hall, vice president of External Affairs, APCo. "We knew the value of bringing broadband services to the rural communities we serve and our team really focused in knowing this would help those communities grow. I couldn't be more proud of all the hard work everyone contributed to make this a success."