Skip to main content
April 05, 2022
Birds of prey love Transmission substations. They're places that don't get a lot of foot traffic and they have lots of high places to perch. That's why as a Transmission construction representative, Vic Fischer has learned to walk his construction sites every morning.
"It's important to look out for these because they occasionally bump into equipment our folks are working on," said Fischer.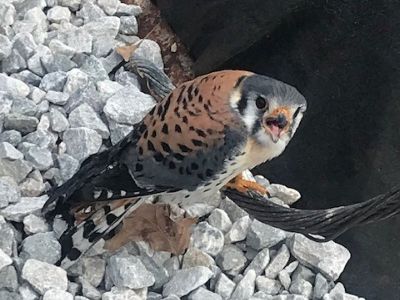 Earlier this year, Fischer and his colleagues Jeffrey Wolf and Jim Skinner were greeted by a small surprise during their walkthrough of a substation. A kestrel falcon was in the oil containment pit unit.
"I was wondering why it didn't move when we got into the area," said Wolf. "We walked right up to it and could tell it had a broken wing."
"I'm a farmer so I'm used to handling livestock so the guys looked at me when we were trying to figure out what to do," said Fischer. "I said we're going to save it because it's going to die if we don't get it out of here."
The bird was inside the three-foot-high walled transformer oil containment pit. This area was de-energized when the bird was discovered there. These pits can get fairly warm because the gravel reflects the sun. Fischer could tell the bird was dehydrated so the team quickly acted. Wolf called AEP's Environmental Services for help finding a rescue organization to take the bird to while Fischer and Skinner corralled it into a box.
"We didn't want to stress the bird any more than he already was. We took our time and moved slowly. He was a feisty little guy and was hissing and going on about it the whole time," said Fischer. "After we got him in the box, we took him into the construction trailer where he was able to cool down."
Fischer and Wolf agreed that teamwork played a big role in the rescue.
"Our environmental group talks about this in our OSHA training so I knew who to contact," said Wolf. "Patrick Evans and Dave Hall got us in contact with a naturalist who was able to come get the bird and treat it."
"Everyone realized that we needed to save this bird and we wanted to do the right thing," said Fischer. "Handling the bird was only part of it. We just had to reach out to the right people. Everyone in the aviary section and Dave were awesome to work with. It was a great team effort."