Skip to main content
May 17, 2022
Partnership with National Salvage and Service Corporation Helps Reduce Wood Waste
Utility poles are a critical part of energy infrastructure, but what happens when they've seen better days? American Electric Power is helping give old utility poles a new lease on life, while also reducing its environmental footprint.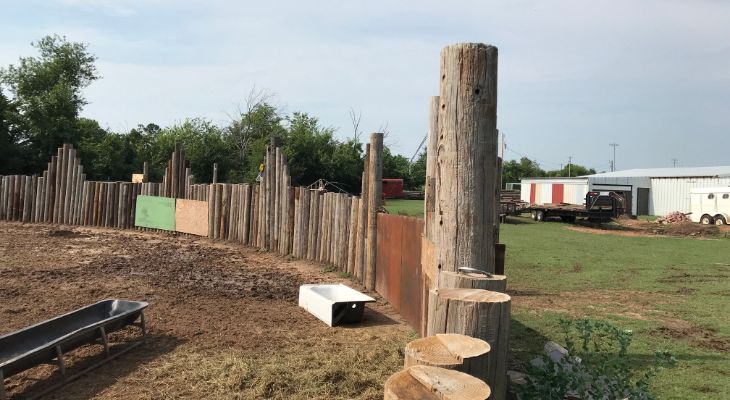 AEP is working with National Salvage and Service Corporation to recycle and redistribute utility poles and wood waste. When a pole is showing signs of wear and tear, operating companies remove hardware and equipment from the pole, take it out of the ground and then store it in a service center. National Salvage handles the rest with boom trucks equipped to transport 10 tons of material. A typical 40-foot pole weighs about 1,000 pounds, so the service also prevents injuries from maneuvering large loads of heavy poles.
AEP first partnered with National Salvage in 2013 when AEP Ohio began using the service in Columbus, Ohio. Over the years, the partnership has expanded, and now all seven of AEP's operating companies and transmission operations participate. Last year, National Salvage picked up nearly 11,400 tons of poles across AEP's service territory. Eighteen percent of that was recycled and sold to be used as fencing, building materials, landscaping and more. Since 2018, more than 8,300 tons of utility poles have been recycled.
AEP also has worked with National Salvage to remove 280 tons of railroad ties from the Cook Coal Terminal and in 2017 during Hurricane Harvey storm restoration to clear nearly 2,500 tons of wood waste from facilities and staging areas.
The effort is part of AEP's continued company-wide focus on sustainability and waste reduction. In 2020, AEP recycled more than 41 million pounds of waste, including paper, scrap metal, light bulbs, batteries, electronic equipment and used fuel oil.