Skip to main content
January 10, 2023
AEP Texas Service Mechanic's Son Organizes Dog Food Drive
Victor Manuel Gonzalez, the son of an AEP Texas line mechanic, was recently on the front cover of two local newspapers, the Valley Morning Star in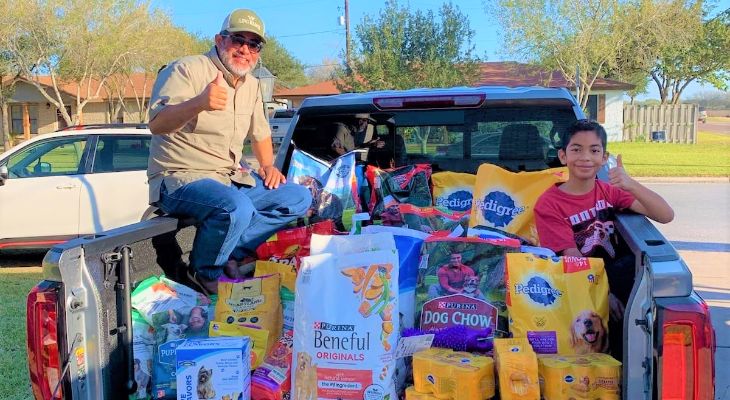 Harlingen and the San Benito News.
During December, Victor Manuel and his friends hosted a dog food drive to benefit the Harlingen Humane Society and Donja's Dogs, a non-profit organization that helps shelter dogs in the Rio Grande Valley.
Victor Manuel and his friends recently delivered dog food and cash to the two organizations. But he is no stranger to giving back. In the past, Victor Manuel has held backpack and school supplies drives along with a food drive for the Sam Benito Food Pantry.
Victor Manuel's giving ways might be a testament to the influence of his parents, Victor and Marisela Gonzalez. Victor is a Service Mechanic in San Benito and has his own impressive resume of giving back.
Victor regularly organizes turkey drives during the holidays and school supply drives at the start of each school year. He also offers his expertise behind the grill and organizes barbecue chicken plate fundraisers for organizations or families in need of financial help. Gonzalez donates the chicken and his time. He has helped many families cover medical and funeral expenses in the past.
Most recently, Victor teamed up with local professional boxers and bought and served food at Loaves and Fishes, a food kitchen in Harlingen.
"I am proud of him," Victor said. "We try to set a good example and we're very proud of him."